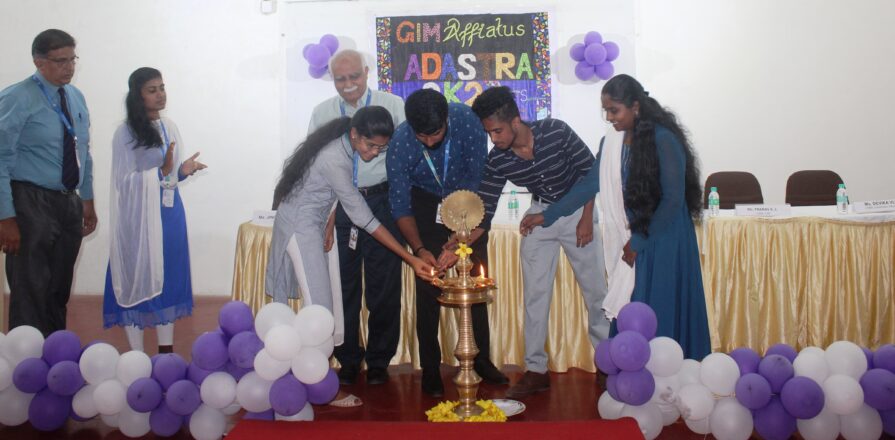 Affiatus 22nd Feb 2023
A TWO DAY INTRA – COLLEGIATE MANAGEMENT MEET AFFIATUS '23 – ADASTRA 2K23
22nd and 23rd February 2023
Affiatus 2023 – "ADASTRA 2K23" the Intra Collegiate Management Meet was inaugurated by Dr. Thomas T. Thomas, Director, GIM by lighting the lamp on 22nd February 2023 at the GIM Campus.
Dr. Vinod U, Principal, GIM, highlighted the events of Affiatus 2023 and motivated the students to actively participate in the events and competitions. Mr. Amal Babu, II MBA, Students Co-ordinator, welcomed the gathering. Ms. Devika Viju, II MBA, proposed the Vote of Thanks.
Affiatus is a two day Intra-collegiate Management Meet of GIM. It is the pride of GIM. Affiatus is being organised every year by the students of Guruvayurappan Institute of Management for the students of GIM. This year Affiatus is named as 'ADASTRA' which means coming together to reach for the Stars!. Affiatus is a very good platform to showcase their managerial skills and competence by the MBA Students.
Affiatus '23 is being conducted on 22nd and 23rd February 2023 at GIM Campus. On the first day the management events being conducted are Business Quiz, Marketing Game, HR game, Finance game and Best Management team. On the second day the events being conducted are Logistics game, Business plan, Paper presentation, Marketing game and Best Manager. "The events are expected to succeed in helping the students polish their managerial skills and showcase their talents, "said Dr. Thomas.
Dr. Thomas T. Thomas Director