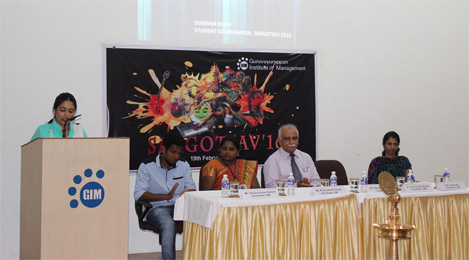 One day cultural programme Sargotsav'16
The One day Intra-Collegiate Cultural Meet Sargotsav '16, organised by the students of Guruvayurappan Institute of Management was inaugurated on 19th February 2016 at GIM Campus. Dr. Thomas T. Thomas, Director, GIM inaugurated the Sargotsav '16. In his inaugural address he inspired the students with his clear vision of excelling in Cultural presentations and Fine arts. Ms. Prasanna, Dance Teacher and Ms. Deepa, Music Teacher, from Coimbatore were the judges for the various Competitions. Ms. Divyashree M, Asst. Professor, GIM, briefed about the Events. Mr. Praveen Kumar K, II MBA, welcomed the gathering and Ms. Sumana Khan, proposed the Vote of Thanks. All the Students of GIM participated in the different competitions forming teams.
The various cultural competition included solo song, group song, Duet, classical dance, western solo dance, group dance, adapt tune, skits fashion show, poetry writing, Story writing, pencil drawing, painting, Hair Style, Poster making, photography, art from waste , Mehendi competition and rangoli . Being an annual event, this fest is aimed at encouraging the aesthetic skills and talents of the budding Managers.