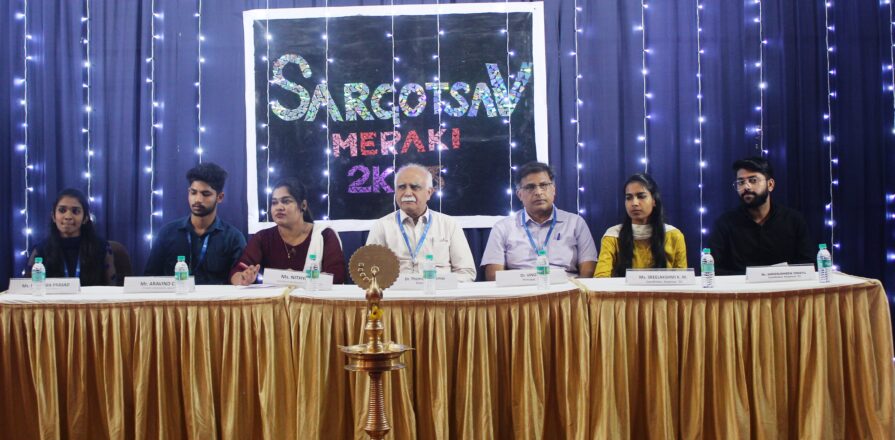 Sargotsav 24th Feb 2023
ONE DAY CULTURAL PROGRAMME
SARGOTSAV'23
The One day Intra-Collegiate Cultural Meet Sargotsav '23, organised by the students of Guruvayurappan Institute of Management was inaugurated on 24th February 2023 at GIM Campus. Dr. Thomas T. Thomas, Director, GIM inaugurated the Sargotsav '23. Dr. Vinod Urath presided over the function. The Sargotsav organised by GIM every year aims to bring out the hidden talents of our students. These programmes, which are planned, designed and executed by the students themselves, add a lot of value to the MBA Students and will also help them be effective managers as they move out of the Institute. India is a country which gives importance to performing arts where we encourage our young minds to groom their performing skills. Ms. M. P. Vaasanthi, Music Teacher, Palakkad was the judge for the various Competitions.
Ms. N. S. Nithya, Asst. Professor, GIM, Faculty Coordinator of the programme inspired the students to actively participate in such events. Mr. Aravind C. P, II MBA student welcomed the gathering and Ms. Manjima Prasad, II MBA briefed about the Events. Mr. Ameerudheen Ismayil , I MBA proposed the Vote of Thanks. All the Students of GIM participated in the different competitions forming teams.
The various cultural competitions included solo song, Duet, group song, classical dance, group dance, fashion show, poetry writing, story writing, pencil drawing, painting, poster making, photography, art from waste , Mehendi competition and Nail art . Being an annual event, this fest is aimed at encouraging the aesthetic skills and talents of the budding Managers.